Services I Provide And Service Area
Its me,Jonathan and my service truck!(what a handsome fella!)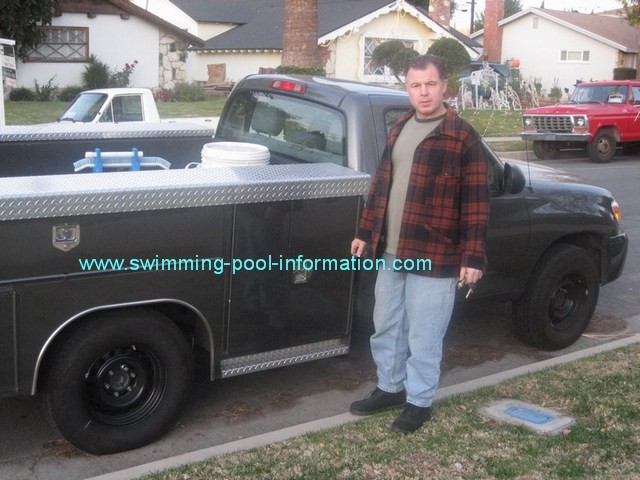 Upgrade pool drains to new federal safety code work done without draining pool
Spa GFCI shut off
I am fully licensed,bonded,and insured.My contractors license is #729376. If you are a customer in the Ventura or Los Angeles Counties looking to have repairs to swimming pool and/or equipment installed I provide services in the following areas codes:
area code 818 area code 805 area code 310 area code 213
area code 323 area code 661
Services I provide:
I give quotes for re-tile and re-plaster(although I do not personally do that work)I install/service digital and wireless remote controls, multi-speed pool pumps,heaters,salt chlorine generators, LED lights,and filters to name a few.(I can retrofit public pools to comply with the new Virginia Graeme Baker Pool and Spa Safety Act). Also I can get you in touch with a qualified leak detection specialist if you need that service-more on that in the "Leaks" section.
If you are looking for MINOR repairs or services such as pump seal leaks or filter or pool cleaning or blowing out clogged lines my service "box" is outlined by the 101 405 118 and 23 freeways. If you are inside or near those parameters,I am available for minor services
My general rates are:
Service call 75.00 includes first hour
Hourly rate 55.00
Includes driving time
If you are outside the "box",ESPECIALLY East or South of the 405/101 exchange its 100.00 mininum
I believe Leslies Pool Mart charges 99.00 plus 20.00 fuel charge for service call and 49.99 for an estimate which goes towards service call so I feel I am competitive
I will NOT charge a service call for doing an estimate for new equipment but if I bring out the toolbox to diagnose its a service call.
If you have questions regarding any services,please use my "contact me link" Please only if you are in the areas mentioned above and wish to hire me use this number:
818-345-POOL(7665)
Here are some of the cities I service for a 75.00 service call:
Bell Canyon,Woodland Hills,Canoga Park,Malibu Junction, Agoura, Calabasses,Hidden Hills, Chatsworth, Encino,Tarzana,Porter Ranch,Northridge,Mission Hills,North Hills,Thousand Oaks,Simi Valley, West Hills,Reseda,Van Nuys,Encino,Warner Center,Panorama City,Granada Hills
These cities I service for an extra fee (above plus 15.00):
Pacific Palisades,Castellamare,Toluca Lake,Universal City,Westlake,Topanga,Newbury Park,Studio City,Sun Valley,Malibu Beach,Sherman Oaks,North Hollywood,Glen View,Fernwood
These cities for an extra 25.00:
Los Angeles,Bel Air,Santa Clarita,Valencia,Saugus,Canyon Country,Beverly Glen,Newhall,Bouqet Canyon,Beverly Hills,Burbank, Camarillo
Another thing I would like to add: during the winter off peak times I have more time to do major repairs and also can get better deals from the manufacturers sometimes...during the peak season I do lots of work for home warranty companies and other pool serviceman and may simply not be able to get to your job for a week or more.
This is a pool I worked on "before" and "after" (48 hours later):