Softub Portable Spas
Shipping 99.00 in Los Angeles/Ventura Counties!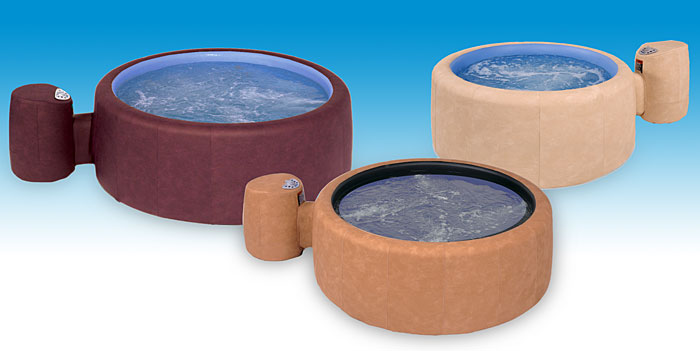 On the photos above, you will notice a cylinder shaped object attached to the spa. This is the pump with a stainless steel tube which is wound around the motor to transfer heat from the motor to the water, a temperature control board, an ozone unit, and an on/off button- thats it!
There are many different portable spas on the market,but I feel Softub is the best. I have been to several pool and spa shows in several different states and cities and have seen several different softub copies, but the original you see on these pages is the best! If you are looking to purchase an acrylic or fiberglass type spa, there is a link at the bottom of the page.
Softub can, after many years of faithful service, be recovered inside and out for a fraction of the price of buying a new unit.
Softub has a thicker cover and insulation than a lot of the copies I have seen which makes it more comfortable and holds the heat in better to save energy.
Some of the copies use an electric heater element which uses more energy.
I believe in the K.I.S.S. philosophy-the more motors,pumps, and other devices the more chances for trouble. Lets take it one item at a time:
1)Air blower...an air blower should be 18" above the water line or have a "Hartford Loop"(a piece of pipe looped 18" above the water line),of course in a portable spa with the equipment beneath the wooden skirt this is impossible. The result? The blower motor burns out due to water vapor and condensation prematurely. The spas on this page have "free air",a venturi which sucks in air by the action of the pump,no secondary air blower is needed.
2)Electrical heaters-A HUGE consumption of electricity...the pump must also run water over the heater to heat spa....some manufacturers try to reduce the amount of electricity by having a secondary,tiny pump for the heater called a recirculation pump. ANOTHER item to go wrong!(not to mention the flow switch which is needed to make sure heater does not burn up,ANOTHER item which goes bad) The spas seen here have a two speed motor which runs at low speed for heating..the heat is provided by a stainless steel tube wrapped around the motor-the heat from the motor heats up the spa!
3)Extra jet pumps...in theory,a great idea-more pumps equal more jets. But when a pump has not run for a while,it will sometimes freeze up due to stuck bearings,faulty shaft seal,calcium on shaft,or a combination of these. The spas shown here have one pump,no heater,no air blower,no extra pumps.
4)Bringing a portable home...most portable spas are bulky,heavy, and very difficult to move around...sometimes a crane is needed to lift a spa over a fence or rooftop. Softub portable spas on the other hand can be rolled through door by a single person. Simply fill with water and plug in-thats it!
Shown below is my personal Softub in my bedroom...I could have easily bought an imported copy cat for less than a quarter of the price I paid for my Softub(I can get wholesale prices on the other brands),but I chose Softub after looking at several different soft sided tubs.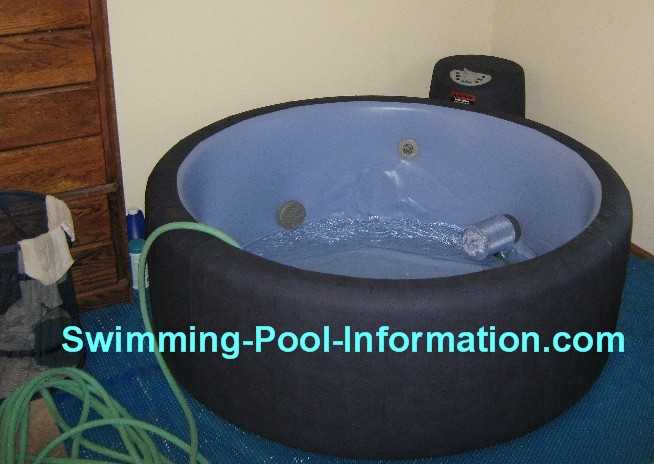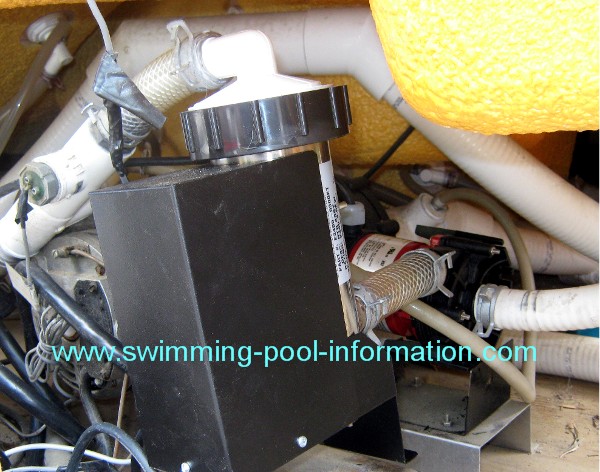 Here is the underside of a NON SOFTUB equipment area. Note the red recirculation pump and the extra energy sucking heater(the silver tube connected to the black box). Also needed but not shown is a pressure switch and a hi limit switch to protect against melting the PVC pipe which is not needed on the Softub!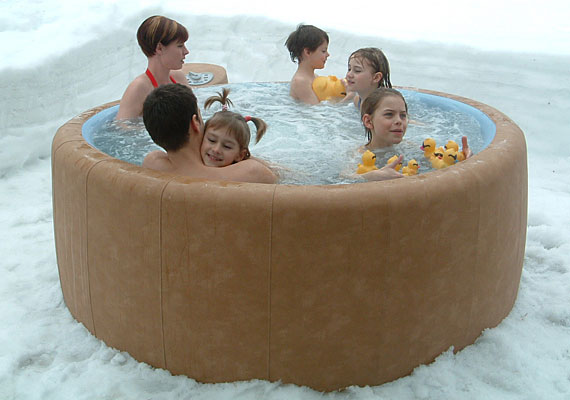 Here are the models:
1)Softub 140 4 jets 140 gallons 24" depth,59" diameter.
2)Softub 220 5 jets 220 gallons 24" depth,71" diameter.
3)Softub 300 6 jets 300 gallons 27" depth,78"diameter.
Softubs only require 15 amp breaker,120 volts.All models come with ozone generator and a smart chip which shuts off spa during low power situations.
Softubs come in 6 colors:
Browns:Almond,Camel,Mocha
Blue:Saphire
Forest green
Burgundy:Port
The tub liners come in blue or black